The fifth edition of novelty match in honour of late Ex-Super Eagles coach, Amodu Shaibu was on Friday 11th June, 2021 played at the main football pitch of the Edo University, Uzairue, Edo State.
The annual event is being organized by friends of the late football icon under the Chairmanship of Mr. Austin Braimah, a veteran journalist.
He told this blog that the late football coach was a great man who deserves to be honoured like other great heroes who have departed to eternal glory.
The first half of the match which ended goaless draw was played between Skymoon FC of South-Ibie and Dynamite FC of Iyamoh both in Etsako West Local Government of Edo State.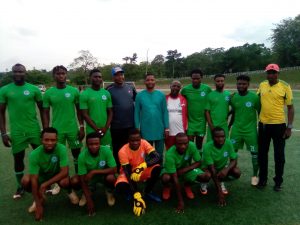 Dynamite FC players were, however, rested for the second half of the game due to injuries sustained by the players in their previous Nigeria professional league games. They were replaced with Skymoon FC Team B who eventually forced Skymoon FC Team A to a goaless draw.
The penalty shootouts ended 4:2 in favour of Skymoon FC Team B.

Speaking with journalists, the guest of honour of the match and President of Fatia Foundation, Abuja, Chief Fatia Aliyu acknowledged that late Amodu Shiabu deserves to be honoured posthumously adding that his death is a collosal lose to football community worldwide.
"Those of us who are fans of the game of soccer see him as a unique example. Amadu Shaibu is a collosus, a unique personality and responsible man.
"It is good we honour posthumously people of his caliber. His death has sprang up alot of football activities in Edo State. It was the vaccum his death created that I took up when I formed Fatia Dragon FC, Ekpoma…"
Coordinating secretary, Amodu Shaibu foundation, Rotarian Yekini Sadoh said that friends of Amodu Shaibu organized the match to see how his name can be immortalized.
"Amodu Shaibu has done more than enough in the world of soccer for Nigeria, Africa and the world atlarge. His demise cannot be swept under the carpet. That is the reason we committee of friends made of up of coaches, friends and well-wishers came together to see how we can immortalized him on June 11th- Amodu Shaibu Memorial Day."
He called on the federal government and private entities especially the Edo State government under the leadership of governor Godwin Obaseki to immortalized him just the way late coach Stephen Keshi was immortalized.
The late Amodu Shaibu died on 10th June, 2016, three days after the death of Stephen Keshi. He was aged 58-years.
🇳🇬Amodu Shaibu will be remembered as:
• 1st Nigerian to qualify S/Eagles for World Cup
• AFCON medalist🥉🥉
• 1st coach to qualify Nigeria for World Cup twice
• Youngest S/Eagles manager (36)
• Only coach to manager Nigeria 4 times
• 1st coach to qualify 🇳🇬 for Beach Soccer⚽️
Get a premium automobile insurance coverage for your vehicle for as low as #15000 only and claim up to #3,000,000 in damages @Zenith Insurance
To signup: WhatsApp/Call: +2349028313757
FOR PUBLICATION OF ARTICLES, EVENT COVERAGE AND ADVERT PLACEMENT: WHATSAPP: +2349059502662